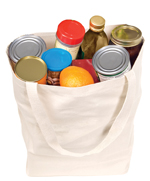 Our food pantry is open on Tuesday's and Thursday's from 9:00 a.m. to 11:00 a.m. for Addison Township residents in need of food.  The pantry is located at the 50 E. Oak St. entrance.
Residents of Addison Township can receive food on a MONTHLY basis.  For example:  if you received food from our pantry on June 5, you may receive food from our pantry again on July 3.  However, anyone who has an emergency need for food can come in at any time.
We offer non-perishable food items along with USDA commodities.
Donations of food and personal hygiene items are gladly accepted.