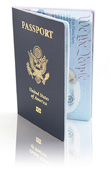 Stop by the Township offices to apply for your PASSPORT CARD or PASSPORT BOOK quickly and easily. Passport applications are accepted Monday through Friday from 8:30 a.m. to 2:00 p.m. 
(MUST HAVE AN APPOINTMENT TO SUBMIT PASSPORT APPLICATIONS)
Beginning June 1, 2009 you must have a Passport Book or Passport Card for all destinations outside the U.S.
PASSPORT CARDS
are good only for travel to Mexico, Canada, the Caribbean and Bermuda by land or sea. The card will not allow you to travel to these destinations by air.
PASSPORT BOOK
allows for any means of travel throughout the world. If you have any questions regarding the U.S. Passport application process and fees, call the Township at
(630)530-8161
for further information.
IMPORTANT NOTICE – Effective April 1, 2011 all United States birth certificates submitted for minor and adult passport applications must contain the name of the parents(s) in addition to the previous requirements.
Effective October 1, 2016 all customers must write their Social Security Number (SSN) on their passport application.
Effective November 1, 2016, customers must remove their eye glasses when taking a photo for a U.S. passport. Customers may wear glasses only in rare circumstances of medical necessity, (e.g., when a customer has had recent surgery and eyeglasses are necessary to protect the applicant's eyes during urgent travel.) Customers should obtain a signed statement from a medical professional or health practitioner (such as a surgeon or ophthalmologist) in these cases.
Effective April 2, 2018, the passport execution fee will increase from $25 to $35.  The $10 execution fee increase only applies to U.S. passport applicants using the DS-11 form, such as first-time applicants over 16, children under 16, and applicants who re-apply after reporting their previous passport lost or stolen.
The $10 fee increase does not apply to adults eligible to renew their passport by mail using the DS-82 form.  Renewal customers can mail their application and supporting documentation to the Department of State and should not apply at a passport acceptance facility or pay an execution fee.
Effective December 27, 2021, the passport application fee will increase from $110 to $130 for adult passports ages 16 and up and will increase from $80 to $100 for minor passports ages 15 and under.
Important: All minors must appear in person when applying for a passport
All United States birth certificates must meet all of the following criteria:
Show the full name of the parent(s)
Be issued by the office of vital statistics of the state, county, or city where the birth occurred
Show the full name of child at birth
Indicate the date and place of birth
Bear the embossed, impressed, multi-colored, or raised seal and signature of the issuing authority
Indicate a registration or file date that is within one year of the birth
Be an original a certified document (notarized copies and photocopies are not accepted
All minors must appear in person when applying for a passport
United States birth certificates that do not meet these standards will not be acceptable as primary evidence of citizenship.